This past weekend I had to be in Atlanta as a special guest at an annual animal welfare fundraiser. I decided to bring Gracie along so we could have a special "girls" weekend. I made plans to take her to the American Girl store there so we could have lunch at their bistro and buy a new outfit for her doll.
My sister lives in Atlanta so we drove there Friday night and planned to go to American Girl on Saturday afternoon. Gracie was looking forward to the two of us having a "sleepover" together. As my daughter has gotten older, I've truly cherished the times we spend at night when I'm tucking her in and we snuggle together and talk.
Friday night was wonderful and we enjoyed our snuggle time. Saturday morning couldn't come quickly enough for my excited daughter. She was ready to go to the store by 7am. It took all of her self-control and patience to hang on until 12:30pm.
American Girl, to a middle-aged mom is sensory overload with a lot of sticker shock thrown in for good measure. By the way, if you can only tolerate only so much pink, stay away from American Girl. Pink rules at that place.
After circling the store to gather up all the goodies that Gracie wanted (she was given money by me for one outfit as well as a money gift from a very dear friend), we headed to the American Girl Bistro for lunch. Gracie's doll received her own place of honor at our table by way of a special high-chair. She was even served a cup of make-believe lemonade. Looking around at all the tables, some girls had three and four dolls seated with them. And of course, I should've known this place would be a popular choice for birthday celebrations so throughout our hour-long lunch we heard the happy birthday chorus sung seven different times. One suggestion I have for the American Girl company is that in-tune singing ability should be a requirement for all of their servers.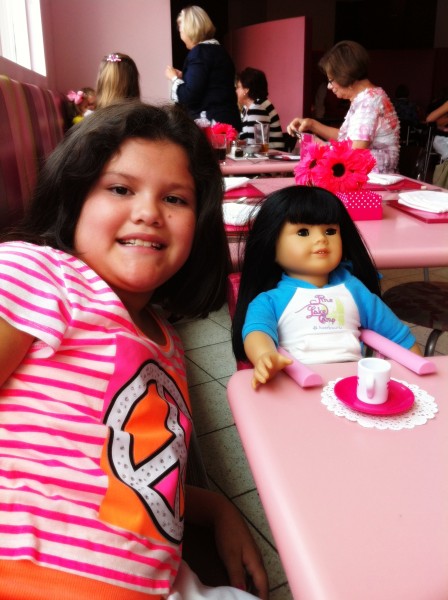 My daughter's American Girl shopping day was a thrill for her. She talked about it all afternoon and did several fashion shows for me so I could see just how many clothing combinations she could make out of her two outfits.
Saturday night, as I was getting ready to curl into bed with Gracie I noticed something. She was resting on one of the pillows and her American Girl doll (in her newly purchased pink pajamas) was resting on the other pillow. There was no room for me. So after spending $32 on a doll outfit and $40 on lunch, I kissed my daughter on the cheek and headed to the other guestroom – the room that my sister's cat has claimed as her own. I spent the night sleeping with a cat who is in desperate need of a bath and a good brushing.