September 20th will find David and me packing our suitcases and my in-laws into the car to head for Cairo!  And I don't mean Cairo, Illinois either, I mean Cairo, Egypt!  David (who is a closet travel agent) has spent the last 9 months painstakingly researching hotels, cruise ships, tourist sites and private guides for our 15 day trip to Egypt.  It would have been easier and less stressful to just book a tour through one of the big tour companies and then sit back and let them figure out all the details, but that's just not the Allen way.  David has hired private transportation and private guides every time they were available to make travelling in a hectic foreign country just a little bit easier with two parents in their 80's and a wife with a gimpy back.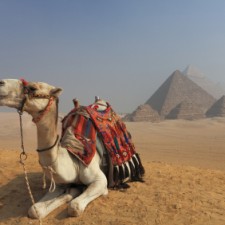 For the last several months we have been watching every TV documentary on Egypt we can find and reading our travel guides until the pages are tattered.  Mom and I have shopped for Egypt-appropriate clothing (no knees or shoulders showing) and I have even tried to learn a few key phrases in Arabic to aide us in our journey.   Since the majority of the country is dark skinned and brown eyed, some of the travel guides warn people with far skin, blonde hair and blue eyes to not be surprised if people reach out and touch them.  The nightmare playing in my mind is a picture of me trying to find a bathroom for my mother-in-law while I am mangling the Arabic language as only a true southern woman can while being ogled and touched by a crowd of Egyptian people enthralled with my bright blonde hair and brilliant blue eyes.  Since I am not used to speaking in foreign languages or being the center of attention (wanted or unwanted) I will not have to worry about the pale skin part because mine will be a nice brilliant crimson.
So for all our Loon Watchers out there, I will be sending Pam a post of our day's activities and photos to go with.  I look forward to sharing the adventures of the Allens as we discover the wonders of Egypt.  By the way, if you hear on the news that a small blonde woman has started some type of international incident, please give generously to the "get Kae out of the Egyptian jail" fund!