Knowing that I love to cook, David signed us up for a  private cooking class with a local chef in Cusco.  It was a marvelous afternoon.  Chef Richard took us to the local market which was a huge warehouse filled to the brim with fruit, meat, bread, cheese and any other various food items you could think of.  Walking along, Chef Richard informed me to "watch your feet."  He explained to us that when you want chicken for dinner, you go to the market and they shove a live chicken in a bag with its head sticking out.  Apparently, chickens get a bit testy when they are shoved in a bag and unceremoniously dumped on the edge of the sidewalk in the blazing sun, so they are notorious for taking out their aggression by pecking at anything that passes by, including the innocent digits of unsuspecting tourists.
The market was an amazing array of colors, textures and aromas, but one area I could have done without was walking through the meat area.  I think I prefer to live in my little United States dream world where all meat is born packaged and ready to purchase and not the Peruvian world where entrails and cows heads with their lips still on are piled high for the casual shoppers perusal.
Back at Chef Richard's restaurant, he showed us how to cook a traditional Peruvian dish and introduced us to a grainy but delicious dish called Quinoa (Ken-waah).  I found out that the majority of dishes started out with a trinity of ingredients and then the protein and starch are added from there to create whatever delectable meal you were inspired to make.  I loved the fact that no one seems to measure anything because that is exactly the way I cook.  Just throw it in until it tastes good.  One very interesting thing I did learn is that gravy, sauces and soups are thickened with micro-grated potatoes instead of flour or cornstarch.  I can't wait to try this method out the first time I make soup this winter.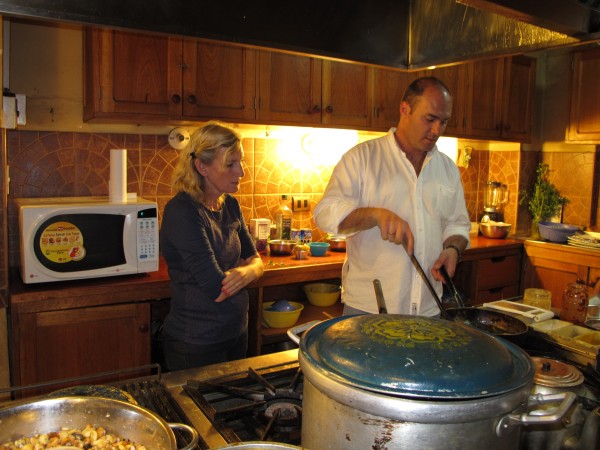 Our second stop on the education train in Cusco was at the Museo de Chocolate.  That's right, The Chocolate Museum.  For years my family has been subject to what is lovingly referred to as "cookie baking weekend."  Every Christmas I make close to 10,000 cookies and candies to give out as gifts to clients, friends and family.  I'm so obsessed with this project that my new kitchen was designed specifically to provide optimum cooking baking potential.  With a giddiness I haven't felt since junior high, David and I donned our aprons.   Gladys, our teacher, started teaching us how to make truffles.  Later that day, David declared himself the best truffle maker because his truffles were beautiful and very tasty.  Next, which was a complete surprise because it wasn't part of the class we signed up for;  Gladys started showing us how to temper chocolate for filled candies.  As she showed us the technique, finally the light bulb flew on in my mind.  I have been fighting the mighty chocolate "bloom" for years. (for those that are not crazy enough to have an entire bedroom full of drying chocolate each holiday season, this is the grayish haze that chocolate gets when it is not heated and cooled correctly.)  I was so excited to learn this technique (and also how to load and unload those pesky plastic chocolate molds) that I could have kissed Gladys on the lips!  But instead we enthusiastically thanked her, gave her a very generous tip and basically skipped all the way back to our hotel with our boxes of truffles and bag of cute little candies.
Seeing a sign that read "Free Pisco Sour Lessons", David and I decided to continue our educational tour at the Museo de Pisco.  This was a bar that only served the Peruvian national liquor called Pisco.  It was amazing to see literally thousands of bottles of various types of Pisco lining the walls from floor to ceiling.    We took turns behind the bar with our bartender/instructor telling us the proper way to make the perfect Pisco Sour.  David went with the traditional pisco and although his mixing skills were spot on he still received low marks on his shaking skills.
I went with a strawberry infused Pisco that was absolutely wonderful.  I received very low marks on the mixing portion of the exam because I immediately splashed pisco all over the instructor (who knew that when pouring liquor from a jigger you have to watch where the ice is—oops).  In my defense, I'm a beer drinker so this whole measure and pour thing was foreign to me.   I did apologize immediately for not respecting the Pisco, which rewarded me with a laugh from all the bartenders behind the bar.  It became immediately apparent during my lesson that bartending was not going to be the newest addition to my super skills list.
We spent the rest of our last night in Peru drinking Pisco Sours and reliving all our fantastic adventures during our journey through Peru.  All in all, it was a wonderful three days of education in Cusco.
To read more from the Two Loons, check out our book Cookies for Dinner. The book is available through online retailers such as Amazon.com, at your favorite bookstore and through our website Two Loons and a Book.