Pisac is a wonderful rural town in the Sacred Valley of Peru.  The big draw for Pisac is the Pisac Market.  At the crack of dawn every morning local people come into the town square and put up their vendor stalls packed with all things Peruvian.  Every evening when the sun goes down those same people take down their stalls so that by midnight there is nothing on the square but a few scattered wooden tables.  On Sundays the square is even livelier as the local farmers come into the town square and set up their farmers market.  The air is filled with the delicious aroma of Peruvian cooking as the food vendors gear up for the day.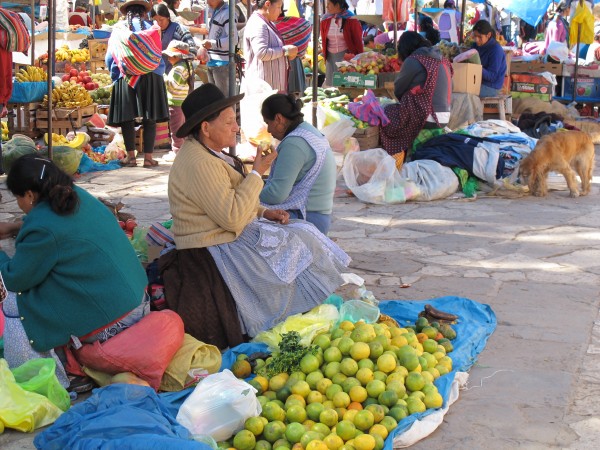 Dave and I scheduled in an entire day of shopping at the Pisac market.  We wandered aimlessly through a maze of stalls filled with brightly colored alpaca scarves and sweaters; soft cotton scarves and table clothes and a psychedelic profusion of the obligatory t-shirts and little knick-knack items every tourist can't resist purchasing and taking home to their loved ones.
Strolling through the stalls we became aware of a group of three little girls; the oldest appeared to be about 7, the next youngest about 5 and the little one maybe 3 or 4 at the most.  They were all dressed in Peruvian finery with little bonnets and large scarves draped across their shoulders.  Tucked into the oldest one's scarf was a little fuzzy white lamb.  Being that I love all things "baby," I had to go pet it.  Yes, those of you who know me know that I am allergic to wool but this will not stop my deep seeded need to touch all creatures large and small, especially small.  Dave and I made a bee line for the little girls so I could pet their cute little white lamb and Dave could pay a couple souls to take my picture with them.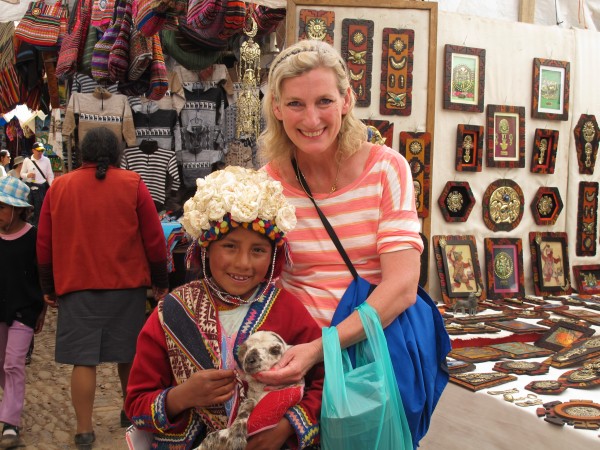 After a wonderful day of shopping, David and I were relaxing on the balcony of the hotel watching the people come and go from the market below.  We started watching the three little girls.  They had quite a little racket going on.  They walked about, looking cute as a bug and when a tourist made eye contact they would show them the lamb and ask if they wanted a picture.  Each girl had their part, the oldest with the lamb would do the talking, the middle girl waited until the picture was taken, then would shyly hold out her hand indicating that they would like a "tip."  At first it appeared that the youngest one didn't really have much of a function other than being just super adorable.  But upon closer inspection I realized that this little bitty girl was carrying a little tiny stuffed fluffy white lamb tucked securely in her scarf.   Now I got it, she was "Mary in Training."