Back in the 1980's when I diligently hauled my on-again,  off-again pregnant self to accounting classes it never occurred to me that I was setting myself up to be abandoned by my family in the future.  Who would have thought that by the very choice of these seemingly innocent classes in the course catalog I was setting into motion an annual tidal wave of chaos that would threaten to pummel me against the very granite desktop I so lovely adore the rest of the year.  But this is exactly what has happened.  Every year with the turning of the calendar to the New Year, a storm called Tax Season is unleashed and by the end of March it has reached its full and unbridled fury.  When my children were in school, this escalation in the annual onslaught and the kids' spring break seemed to coincide with remarkable accuracy.  For years, every spring I would watch as David drove out of the driveway with our suburban packed to the gills with our three kids and all the things three kids need for a week in Florida with their Grandparents.  When I could no longer see the tail lights of the car, I would go back into the house, close the door and bask in the peace and quiet that a woman with three kids, three dogs and husband that works out of the house almost never gets to hear.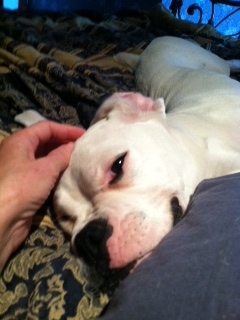 This year, as David is getting ready to take his parents and Fred, our female goldendoodle, to Florida to visit with his sister, Sandi and our niece, Stephie for spring break, I began to worry.  Okay, now is where you are thinking,  Oh, poor Kae, she is afraid to be in that big old creaky, let's face it, kind of scary old house by herself at night.  No, that's not even remotely the issue.  The truth is, after years of living in chaos, I'm concerned that when everyone goes home at 5:00, I won't have anybody to talk to and no one to fuss over until the next morning.
So I figured out a brilliant solution, I borrowed my grandpuppy, Gauge, from my daughter Jess who lives in Tullahoma.  He is a four-month-old white boxer puppy with the cutest little face in the whole world.  Mr. Guagey-Face and I had a wonderful time together.  I explained to him on our first morning together that I was not a morning person and that is was important that he should hold his water until I finished my first cup of coffee.  He promptly stretched back out on his back with is paws above his head and went back to sleep until I got out of bed.  Never once did he wake me up to go potty.  Every morning we would snuggle in bed and discuss the fact the he could never be an accountant because his little paw pads were too stubby.  But lucky for him his Mommy has a good day job and can keep him in Kibbles and Bits.  During the day he got to play with his doggie cousins, Windsor and Palamaloo.  In the evening we would look at the pretty flowers in the garden, eat our dinner,  then he would drag his white towel out of the bathroom and pile it up behind my desk and settle in for a long evening of work.  He was exactly what this crazy old lady needed.  Jess had originally said I could keep Mr. Gaugey-Face for two weeks but I knew she would miss him and I would be lucky if I got him for a whole 7 days.  We sent pictures home to show Mom how much fun we were having hoping that this would buy us an extra day or two but nope, that darned old intuition of mine was right on point.  Jess wanted my Mr. Gaugey-Face back on Sunday.  Saturday, I made sure that I soaked in as much of Mr. Gaugey-Face as I could.  We played in the yard, he helped me carry laundry down to the laundry room, he got lots of extra treats and tickles.  That night when it was time for bed, I counted his little paw pads and rubbed his freckled tummy for an extra long time until he fell asleep.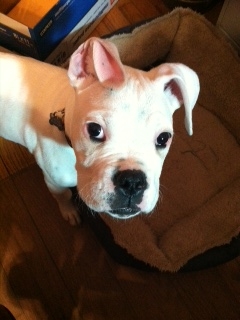 Just before Jess was coming to pick Gauge up in the morning he did his morning business right where she normally parks her car in the pea gravel.  I went inside and got a plastic ba,g joking with Gauge that just because he didn't want to leave his Grandma didn't mean he could poop where his Momma parks.  He trotted over to show me where he pooped just in case I missed it somehow.  Just as I was about to pick up the parcel I noticed something was not quite as it should be.  There squirming around on the top of the otherwise average looking pile of Guagey-Face poop was a little white worm.
And yep, just like that, all my sadness about Mr. Gaugey-Face having to go home with his Momma completely disappeared.  God love the little bugger but I have done my time with mange, worms and fleas.  This grand-human does not do worms!