David, Jess and I drove down to Blue Mountain Beach to meet with the florist, cake decorator and wedding coordinator at the resort Jess and Chambliss have picked for the wedding.  On the ride down I think we were all a little nervous.  Chambliss' mom, Vickie, had invited us to stay with her at her beach house.  This would be our first long-term encounter and I could almost hear Jess saying, "Don't embarrass me!"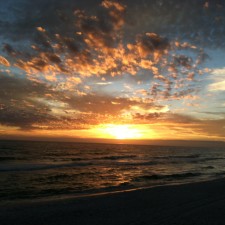 The meeting with the various vendors went wonderfully.  Jess whipped out her ipad and with a maturity and professionalism that brought a proud tear to my eye systematically addressed all the issues at hand.  She had specific likes and dislikes as far as the décor was concerned and even had a picture of the exact cake she wanted.  Ok, so she did go to college to be an event planner, she is a certified wedding planner and works as an event coordinator but I've changed her diaper and was just not expecting this grown-up woman to sit next to me and exude such grace and confidence.
Sitting on Vickie's porch after our long day of decision making, I realized it would be sunset soon.  I gathered my husband and headed for the beach.  Yes, we do spend a lot of time in Florida so you would think Dave and I have strolled the beach at sunset dozens of time.  The truth of the matter is, we have watched the sunset dozens of times from the sidewalk across the street from the beach.  We've watched it dozens of times from the patio of a restaurant.  We've even had cocktails in a cabana overlooking the beach but very seldom has David agreed to walk on the beach with me.  He hates the sand and has a great aversion to taking his shoes and socks off, leaving his tender little feet at risk of stepping on something sharp and pointy.  But on this beautiful afternoon while I was ready to be content to watch the sunset from the beach access stairs, David actually took his shoes off, rolled up his pant legs, gently took my hand and strolled happily down the beach.  We watched the sun created a spectacular show of pinks, grays and oranges as it set.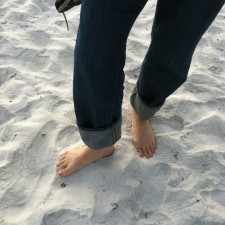 I made a wish on that sunset.  I wished that my daughters, both of whom are getting married in 2013 have found a man as wonderful as David.
To read more from the Two Loons, check out our book Cookies for Dinner.