We're at the end of the school year and the first-third grades will be performing an annual Spring Revue musical. It's always something for parents to look forward to, what with the mad scurry to create, purchase or borrow costumes, learn songs and watch with over-the-top pride as our children sing off-key, mumble their lines, fidget with their costumes or (gasp!) even trip on stage. Yes, it's truly the stuff of memories.
This year there was an added element of stress and excitement when the casting announcement was made. Gracie was absolutely thrilled to learn that she was going to be playing a zookeeper. Gracie LOVES being in a position of power and felt this role was made for her. Jack, on the other hand, was not so happy. He was cast as a pig. What made it worse was that he is just a pig among a group of pigs. He isn't even a standout, remarkable pig (we have been reading Charlotte's Web – bad timing, I know!).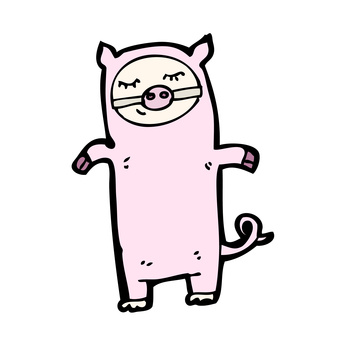 After spending a fair amount of time at the computer with Jack so we could look up information about how intelligent pigs are, he started to come around. Maybe being a pig wasn't so bad after all. Whew! One crisis averted. At tonight's performance I will be watching my proud little pig sing and dance across the stage while holding his snout up high.
Gracie, who up until this morning, was on Cloud Nine at the thought of being a zookeeper, just had her little pink snouted sibling inform her that he overheard Mommy tell Daddy that the zookeeper costume consists of BOY'S clothing. The costume requirements were khaki shorts and a button-down, collared white shirt. Gracie had neither in her wardrobe and I couldn't find khakis or a white shirt in her size in any of the girls' departments of our local stores. Cleverly, I figured the boys' departments would have quite a selection of such mandatory manwear. I found just what I needed, snipped off the tags to hide the gender proclamation and hoped that my daughter wouldn't really notice the mock fly on the shorts or the fact that the shirt buttoned in the opposite direction. All was good and Gracie was none the wiser until the porcine tattler spilled the beans.
Now, Jack is thrilled with being a pig and Gracie is NOT happy about wearing boys' clothes. No matter, I will still be sitting in the front row, ready to applaud my little heart out the moment a certain proud pig and grumpy zookeeper take the stage.