Before we agreed to begin remodeling our dining room, Scott (aka "Scott the Worker Man to the Allen children) assured me that the job would be finished by Thanksgiving.    Wednesday was a wild day filled with the chaos of Scott Bennett's workers flying around my dining room attempting to get the job finished before the end of the day.  My brother, Wayne and husband, David had spent the evening before putting together our two new chandeliers.  Note to self:  when they say "some assembly required" on a 30" empire style chandelier be prepared to stand on a ladder while attaching about 1000 gleaming crystal strands and tear drops to the crazy thing.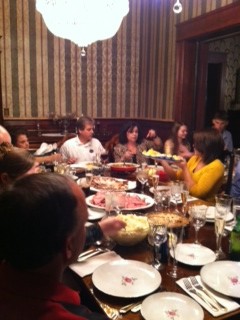 As the hours ticked by, I became more and more grim.  There was so much work left to do, plus the massive cleanup effort necessary to get all the construction dust eradicated, that I was slowly becoming certain that my dining room would not be finished by the time Sandi, Barry and Stephie (David's sister's family) came in the door later that afternoon.  In an effort not to freak out I started plotting out plan B.  I had a 30 pound turkey sitting in the fridge with a 10 pound ham on the side that would have to be served somewhere.  Luckily we have a gigantic center hallway.  It runs 70' down the center of the house and is almost 8 feet wide.  In the past when we have had large sit down dinners we have run tables down the center of the hall and voila, you have a banquet room.   With a sinking feeling I searched out the Thanksgiving themed table clothes and readied them for action.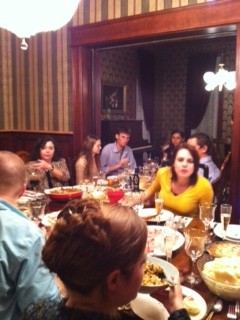 At 3:00, I heard the distinct whir of a shop vac.  Then Scott appeared asking if we had any cleaning supplies.  It was like a miracle.  With loving care, these brutes that have been sledge hammering down my walls and using pneumatic nail guns with reckless abandon for the last three weeks began gently washing, wiping and vacuuming up all evidence that they had been in my house.
Thanksgiving dinner was served in the main dining room.  While still needing some finishing touches, Scott the Worker Man, true to his word had my dining room ready for Thanksgiving dinner.  As the mother of grown children, my happiest day is when I can see all of my kid's faces in one room at the same time.  It was glorious having our entire family together for Thanksgiving dinner and the cherry on the top was having such a beautiful space to share it in.